Be it strength, ductility or customisation, our latest offering, 7 STAR 500D grade TMT bar, shines at every parameter.
Get ready for a dazzling display of strength and durability.
The strength of the best global technology
Created using one of the world's most trusted TMT manufacturing technology, TEMPCORE. 7 STAR 500D TMT bars draw their strength from the computer-controlled in-line process of hardening and tempering during hot rolling.
Authorized by Centre De Recherches Mettallurgiques (CRM), Belgium to use their prestigious TEMPCORE process.
Technical assistance from HEEP&P (Human Engineering for Environmental Products and Production), Germany.
Certified by Bureau of Indian Standards (BIS) to manufacture Steel Re-bars as per IS: 1786/1985.
Other global quality certifications like ISO 9001.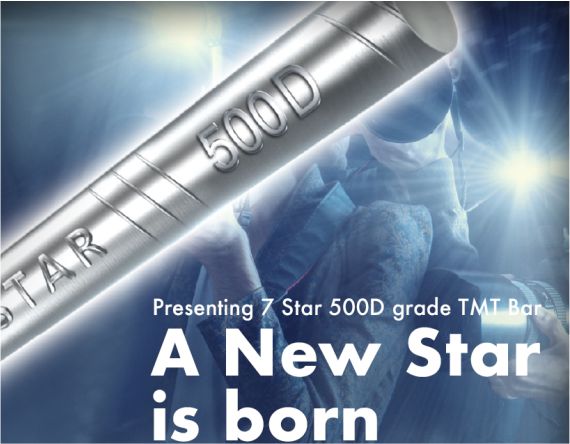 HIGHER BAND STRENGTH DUCTILITY AND
BEND-ABILITY


HIGHER CORROSION AND
SEISMIC RESISTANCE


PROCESS TECHNOLOGY FROM TEMPCORE, BELGIUM


AVAILABLE IN CERTIFIED CUSTOMISED LENGTHS


GLOBAL QUALITY
CERTIFICATIONS

AVAILABLE IN
500, 500D, 550D
*Estimated values based on study by German Institute of Reinforcing Steel
SIMILAR RECOMMENDED PRODUCTS