7 STAR proudly presents a new grade of TMT bar: Fe600
Our new offering will help you build more while consuming up to 20% less steel.
What it means is whenever you choose 7 STAR Fe600, you save big on material, time, cost and storage space.
The strength of the best global technology
Created using one of the world's most trusted TMT manufacturing technology, TEMPCORE. 7 STAR 600 TMT bars draw their strength from the computer-controlled in-line process of hardening and tempering during hot rolling.
Authorized by Centre De Recherches Mettallurgiques (CRM), Belgium to use their prestigious TEMPCORE process.
Technical assistance from HEEP&P (Human Engineering for Environmental Products and Production), Germany.
Certified by Bureau of Indian Standards (BIS) to manufacture Steel Re-bars as per IS: 1786/1985.
Other global quality certifications like ISO 9001.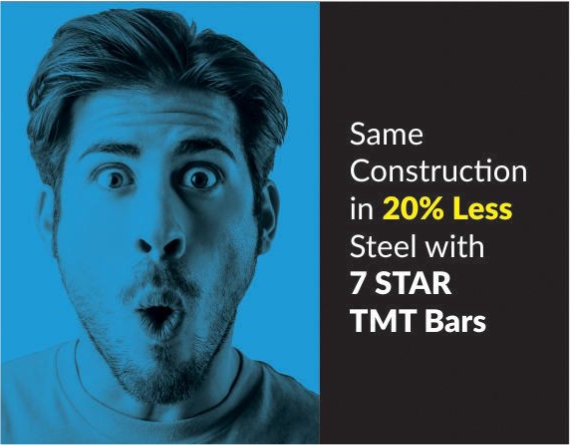 HIGHER BAND STRENGTH DUCTILITY AND
BEND-ABILITY


HIGHER CORROSION AND
SEISMIC RESISTANCE
The 7 STAR 600 Grade Advantage

20% less steel reinforcement required

20% less manpower required for fabrication

20% fewer trucks required for carrying steel reinforcements

20% less storage space required

20% less on-site manpower required
*Estimated values based on study by German Institute of Reinforcing Steel
SIMILAR RECOMMENDED PRODUCTS